Expat news
Friday, 09 May 2008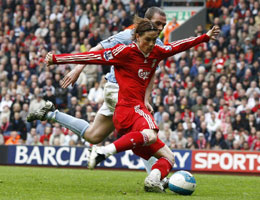 A published picture showing a Thai national flag bearing the name "Thaksin" at a Manchester City football match has sparked controversy in Thailand. The Thai government said it was investigating the photo, which was published in Matichon newspaper last week. Thai Foreign Minister Noppadon Pattama said it was unlikely that former prime minister Thaksin Shinawatra was involved in the "improper act." He said it could have been done by Manchester City supporters who were unaware of the potentially negative meaning it sent to Thai people.
AFP
Xinhua

Read more...
Expat news
Monday, 05 May 2008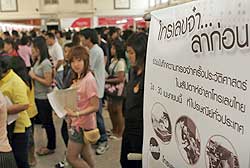 Last week, CAT Telecom officially closed its telegram service after 133 years, citing a decline in its popularity and low profits. The telegraph was the first modern form of public communication for Thai people and was introduced during the reign of King Rama V. It was put into service about eight years before the Thai postal service. Officials at the central post office in Bangkok saw the peak of the service's popularity about 30 years ago, when they were required to work around the clock in three separate shifts.
Bangkok Post
Read more...
Expat news
Tuesday, 15 April 2008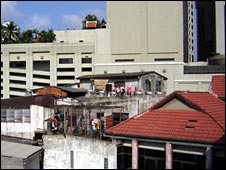 This BBC article looks at the incident that occurred on Sukhumvit Road last year, in which a 20-year-old intentionally rammed his Mercedes into a crowd of people waiting for the bus, killing one and injuring others. The driver, named Kanpitak Pachimsawas, was originally charged with murder. However, his case has been suspended until November, and many believe that because of his rich family's connections, he will never actually be sentenced. Author Jonathan Head said the case has "turned into one about class differences, about the perceived arrogance of Thailand's rich, towards the poor."
BBC
Read more...
Expat news
Friday, 11 April 2008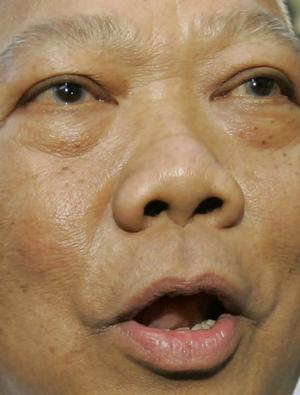 Thailand's combative prime minister has lashed out at a famous fortune teller for predicting his new government's downfall in another military coup. The self-proclaimed fortuneteller also predicted that Thailand's new army chief General Anupong Paojinda would be the next prime minister. "This fortune teller has no shame about making a wrong prediction and I wonder what he is doing to the country by invoking my name and that of the army chief to insinuate another coup," PM Samak said.
AFP
Read more...
Expat news
Monday, 17 March 2008
Bangkok governor Wallop Suwandee said the city would continue to ban vendors from setting up streetside stalls on Mondays. The announcement came despite Prime Minister Samak Sundaravej insisting that the regulation was "inappropriate." Suwandee said the policy allowed pedestrians more room to walk at least once a week, and allowed authorities to clean the pavement. Meanwhile, the premier said previously that he wondered whether someone would die if vendors were allowed to set up their stalls on the streets on Monday.
Bangkok Post


Read more...
<< Start
< Prev
1
2
3
4
5
6
7
8
9
10
Next >
End >>