Thailand has been voted as one of the top three favorite destinations for Chinese tourists, according to a poll conducted recently by National Geographic's Trend Traveler magazine. With 10,000 people taking part in the survey, respondents said they were most impressed with the countries Thailand, France and the Netherlands. Rome, Vienna and Tokyo were chosen as the favorite city destinations worldwide.
TNA
Participants of an online survey by VISA Asia Pacific and the Pacific Asia Travel Association named Thailand as their most likely destination. "Thailand's reputation as a relaxing place where people can enjoy the local culture, natural beauty and friendly people continued to increase in the minds of those looking to travel to Asia," despite international media attention on the country's civil unrest ahead of the survey, PATA said. The survey of 5,050 people identified as "committed or possible Asia travelers" voted Japan and China as the other top destinations. About 47 percent of respondents identified "terrorism" as the top barrier to travel, with Indonesia the destination most commonly identified as affected by it, followed by Sri Lanka and the Philippines.
AFP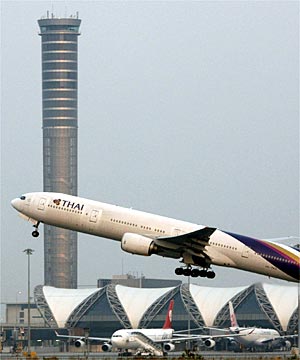 Six months since the opening of Bangkok's $US4 billion Suvarnabhumi Airport, complaints continue about corruption, cracked runways, poor planning and a shortage of toilets, particularly in light of a 15 percent rise in landing and parking fees effective April 1, making the airport more expensive for airlines than rival facilities in Singapore and Kuala Lumpur. "Airlines are not getting value for money for what they are paying at Suvarnabhumi," said Albert Tjoeng, spokesman for International Air Transport Association. "The increased charges are unreasonable, especially given the operational deficiencies at the airport." Many travelers also complain about so-called taxi "mafias" and their touts who pounce on bleary-eyed passengers in the cramped arrivals hall. "I don't think there is a set rate. They just do whatever they want to do," said Robin Tonsaker, a Canadian tourist. Airport officials claim they are working with the police to root out the mafia.
Reuters
More Articles ...