National Public Radio of the U.S. reports on the state of Thailand in the six months after the Sept. 19 coup. Included are quotes by political experts and local residents, both of whom appear unsatisfied with the current government.
NPR
Listen to the NPR report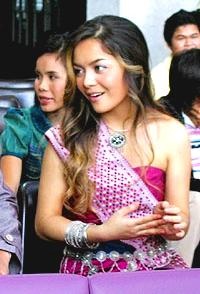 Thailand's TV Channel 7 on Tuesday cancelled the soap opera "Love Song On Both Sides Of The Mekong" due to complaints by the Laotian government that the show was offensive. Laos said the drama about a Thai-Laotian couple contained distasteful scenes including one in which Thai actor Kanos Kukolwat dropped Laos' national flower, the frangipani, in the river as he despaired over uniting with his love, Laotian singer Alexandra Bounxouei, and because no family elders were present when Kanos's character made his marriage proposal. "Although Laotians and Thais speak the same language, some things may be acceptable to Thais but not acceptable to Laotians," said Souvanna Phouyavong, a top envoy at the Laotian embassy. "In order to maintain good relations, we expressed our concern that this may cause misunderstandings."
Straits Times
A German national charged with raping a minor in Thailand was found dead in his prison cell in what was believed to be a suicide. Helmut Nehls was found dead in his cell Wednesday with his wrists slashed and a sock stuffed down his throat. Prison officials said they were sure it was a suicide because he was in solitary confinement and the key to his cell was with the supervisor. Thai police arrested Nehls on Feb. 10 on charges of raping and abducting a minor. He was arrested in a rented house in Udon Thani with a 12-year-old girl.
Deutsche Presse-Agentur