Police have accused Taweesap Lalitsasiwimon of hacking into the computer systems of AIS and True Corp. and causing more than 100 million baht in damages. Advanced Info Service said last month that it suffered losses of 8 million baht after an unidentified hacker got into its computer system and manipulated airtime allowances granted to pre-paid cellphone users. Two years ago, True Corp said that it lost more than 105 million baht in a similar sting, leading police to believe that the two jobs were performed by the same culprit. Crime Suppression Division deputy commander Colonel Kowit Wongrungroj said Taweesap had dazzling computer skills and managed to hack into AIS's network in less than 10 minutes. "At first, it seemed like he had hacked into the system via Internet cafes because he used various SIM cards and Internet connections by many service providers," Kowit said. "However, we used advanced technology and finally nailed him."
The Nation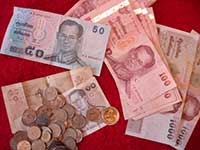 Thailand may lift its capital controls after acknowledging that they have failed to slow the appreciation of the baht against the dollar, according to Bank of Thailand Governor Tarisa Watanagase. Tarisa said that capital inflows into Asia had caused the baht to appreciate 4.3 percent against the dollar this year, after gaining more than 8 percent against the currncy in 2006. She said the central bank was considering lifting the 30 percent capital reserve requirement put in place at the end of last year, in an effort to stem speculation on the baht. Some worry that the strong baht will have an impact on the country's export sector, which has become more important to the Thai economy as investments and consumer spending have both declined of late.
DPA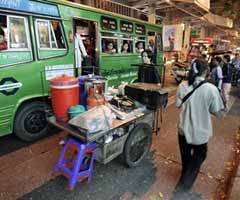 The Thai government has endorsed a new law aimed at slowing the expansion of foreign retail giants, following an outcry by local shop owners. The new law calls for local governments to assess and approve any proposed new branches of supermarket chains in their province. In addition, a new central body called the Retail and Wholesale Supervision Committee would be set up to regulate the retail business around the country. Foreign-owned supermarket chains including Tesco and Carrefour complain that the new law, if enacted, would ultimately hurt the consumer by limiting choice and hindering competition. The government also said it is now planning to toughen its enforcement of existing zoning laws to help slow the expansion of foreign retailers.
AFP
More Articles ...