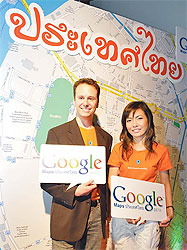 Google has chosen Thailand as the first country in the region to have its own Google Maps due to the popularity of Google's many services in the country. Internet users can now search for locations anywhere in the country and receive map or satellite views, as well as driving directions to their destinations. They can also create and save their own maps to the destinations of their choice while planning a trip. Google has partnered with the Tourism Authority of Thailand to provide over 3,000 attractions for tourists. Other features include extensive restaurant lists and interesting events taking place around the kingdom. Thai businesses can post their locations and business summaries on the Google Maps as well. The service is now available for mobile phone users who will have access to the same features as they do on their computers.
Bangkok Post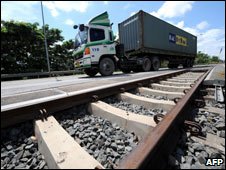 The first rail link between Thailand and Laos has recently opened and will offer four services daily across the Mekong River. The 3.5-kilometer track connects Thailand's Nong Khai province and Laos' Tha Naleng station and will be extended further to the capital Vientiane in the near future. The 197 million baht (about US$5.4 million) project was financed by Thailand. The Laotian government plans to build further links to Luang Prabang and to Boten near its northern border with China. The services are expected to ferry around 500 passengers across the Thai-Lao border every day. The fares for the 15-minute journey vary from between 20 and 80 baht. Passengers who do not have a passport can obtain a temporary border pass from officials at the border checkpoints.
BBC



The Bangkok Metropolitan Administration has designated a run down pier and a dilapidated warehouse nearby as the site for a new floating market. Work to renovate the pier itself and the surrounding area will begin shortly and is expected to finish in the next three months. The pier, situated in Min Buri district, is on the notoriously polluted Saen Saeb canal, known for its smelly and murky water. A program to improve the water quality will soon be under way. The Min Buri floating market will add to Bangkok's many attractions and will serve as an alternative for the Damnoen Saduak floating market in Rajburi province. In a drive to increase tourist spending in the capital, the world renowned shoppers' paradise Jatujak weekend market will now be open on Fridays in addition to the weekends, starting February 20.
The Nation