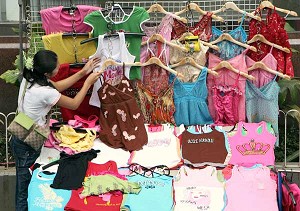 Shermans Travel has named Bangkok the best city in the world for shopping. Bangkok topped the list for its reputation as one of the best shopping destinations in Asia. The annual list for shopaholics said good finds in the city are high-quality silk, jewelry, and traditional crafts for a reasonable amount of money. Bangkok beat out cities including Buenos Aires, Los Angeles, New York, Hong Kong, London and Paris.
AHN
A handful of taxi drivers in London have been recruited by the Tourism Authority of Thailand to casually talk to passengers about the benefits of traveling to Thailand. In the promotion orchestrated by Thai tourism authorities, drivers might comment on London's dreadful weather. The passenger's response will enable drivers to get a sense of that passenger's receptiveness to hearing a sales pitch. "Drivers can go on to talk about holiday destinations that are nice and sunny and then go on to say something about Thailand," said Asher Moses, managing director of Taxi Promotions UK, the agency that facilitates the ad campaigns. "Drivers can tell if a passenger is willing to talk or if they just want to sit and read a newspaper or stare out the window."
Cox News Service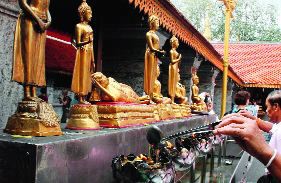 Reuters has provided a guide to 48 hours in Chiang Mai. Included in the itinerary is the tapas restaurant The House, the central Night Market on Thanon Chang Klan, the Peak Pool Bar, the Art Cafe on Thanon Tha Pae and Thanon Kotchasaran, Wat Phra Singh, the Heuan Phen restaurant at 112 Thanon Ratchamankha, the market stalls on Nimmanheamin Road, and the rare textile store Paothing's Private Collection.
Reuters
More Articles ...