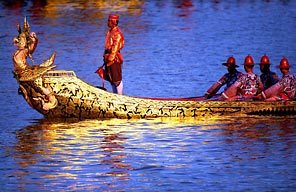 In this article, Carol Pucci of The Seattle Times tells of her experience biking throughout Bangkok as part of the Co van Kessel bike tour. The tour began in Chinatown and continued to the Chao Phraya river. The tour also included an instructional session on how to make tom yum goong soup.
The Seattle Times
More than 900 illegal taxi drivers and tour guides were arrested at Suvarnabhumi airport in June and July as the airport continues attempting to ensure passenger safety. Suvarnabhumi airport director Serirat Prasutanont said the crackdown had brought illegal taxi and guide activities down by 70 percent to 80 percent. Serirat admitted such illegal operations had damaged the country's image because some customers were over-charged, assaulted and robbed. Serirat added that any taxi drivers found to have overcharged a passenger would be prohibited from picking up passengers at the airport for at least 10 days.
Bangkok Post

The National Legislative Assembly has approved a 20 million baht fund to assist both local and foreign tourists who suffer from accidents or are ripped off by tour operators. The government would recover the expenses from offending companies, and penalties against offenders would be strengthened under the draft act. Also, registration procedures for new businesses would be toughened to prevent offending operators from closing shop and reopening under a different name. Anake Srishevachart, president of the Thai Travel Agents Association, said operators objected to the stiff measures and have asked the government to suspend the process. He said they disagreed with the harsher punishments that include two years' imprisonment for misconduct, and they questioned the fund's transparency.
Bangkok Post