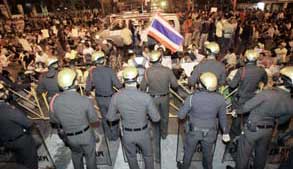 Thai Army spokesman Colonel Sansern Kaewkamnoed said yesterday that the military will not interfere with the political situation in Thailand, ruling out speculation that soldiers might seize power. "A coup wouldn't solve the political problem," he said. He also denied rumors that House Speaker Chai Chidchob had requested the deployment of soldiers for security at Parliament. Kaewkamnoed went on to say that soldiers too must abide by laws and that there is no military mandate to dispatch troops to quell clashes of opposing crowds - unless requested by police and authorized by the government.
The Nation
Travelers were forced to drag their heavy suitcases and walk to and from the airport terminals Thursday, as some 300 taxi drivers blocked the entrances to both the arrivals and departure lounges at Suvarnabhumi International Airport. The taxi drivers demanded they be exempt from having to use their meters when hired to take trips outside of Bangkok from the airport. A number of taxi drivers had earlier been arrested by police for refusing to turn on the meters and negotiating an inflated fixed rate with passengers, especially international tourists. The Land Transport Department chief turned down the taxi drivers' demands and insisted that they use the meters. Airport authorities had to call in outside taxi drivers to work in place of those who went on strike.
The Nation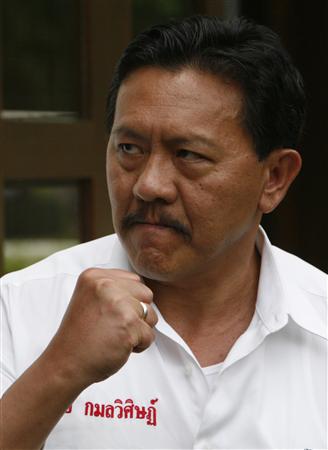 Former massage parlor tycoon Chuwit Kamolvisit is adamant he is still fit to run for Bangkok Governor, following a well-publicized fist fight with a TV anchorman. Chuwit is urging voters not to use the incident to judge him and his bid to become Bangkok governor. Chuwit appeared on a news talk show on Channel 3 Thursday and ended up elbowing and kicking the show's anchorman in the face backstage after the show ended. Chuwit said the talk show host insulted him by revealing information about a private conversation they had before the start of the show that was supposed to be off-the-record.
Reuters
More Articles ...