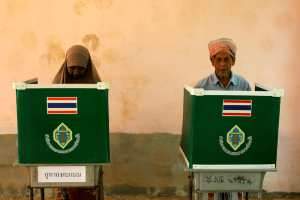 The coalition government led by the Democrat Party has secured its hold on power after winning the majority of the seats in Sunday's by-elections. According to unofficial results, the Democrats have won 20 of the 29 seats available, leaving only 9 seats for the opposition parties. In a separate race for the governorship of Bangkok also held on Sunday, the candidate from the Democrats sailed through, receiving a resounding 45 percent of the votes cast. Political analysts are hopeful the Democrats' victory will bring the much-needed stability back to Thailand's politics.
The National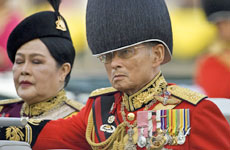 Over the past year alone, the Thai government has blocked more than 2,300 Web sites, most of which for allegedly containing offensive content regarding the Thai monarchy. A senior official at the Ministry of Information and Communication Technology revealed that the number of Web sites containing inappropriate content about the highly revered Thai king has risen sharply in the past two years, due to the political upheavals in the country. Anti-government protesters have used lese majeste as a weapon to attack former Prime Minister Thaksin Shinawatra and politicians with alleged ties to him. Lese majeste is a serious crime in Thailand, the only country in the world which still upholds this law.
AP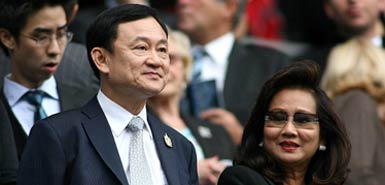 Former Thai Prime Minister Thaksin Shinawatra has divorced his wife Potjaman in Hong Kong. Some experts say that the move may have been motivated by a desire to protect his assets rather than any marital problems. Thaksin's UK visa was cancelled earlier this month after he was convicted in absentia on corruption charges by a Thai court. Phongthep Thepkanjana, Thaksin's personal spokesman, denied the divorce would make any difference to whether the couple could avoid forfeiting their assets in Thailand.
The Times
More Articles ...