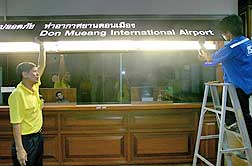 Bangkok International Airport has been officially renamed Don Meuang Airport in light of its reopening. The airport will offer services for all domestic flights by One-Two-Go and Nok Air beginning on Sunday. Kalaya Phakakrong, acting president of Airports of Thailand, said that from March 25, Don Mueang would handle 140 flights and accommodate 18,000 passengers a day.
The Nation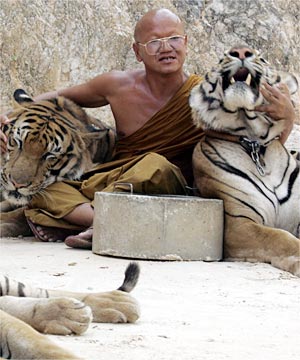 The Wat Pa Luangta Bua Yannasampanno, or Tiger Temple, in Kanchanaburi is attracting a torrent of visitors interested in being up close and personal with one of the world's most magnificent, and dangerous, beasts. The temple currently houses has 18 big cats, with names such as Storm, Lightning and Rainbow. Resident monks say visitors typically approach the tigers with some trepidation, but in the end, the cats prove irresistible for most. One monk at the temple said he had not seen any serious accidents since visitors started coming some five years ago. "A few tourists were slightly injured, scratches from the naughty little tigers, but no serious accidents have been reported," he said.
Reuters

Bumrungrad International hospital in Bangkok is becoming a popular destination for international travelers in search of low-cost medical procedures, particularly among Americans who lack comprehensive health insurance and Europeans who are unhappy with long waiting times at home. Bumrungrad treated 450,000 foreign patients last year - more than any other hospital in the world. Ruben Toral, Bumrungrad's marketing director, says that medical tourism will eventually lead to medical outsourcing. "Your corporation, your insurer, your government could send you [to Bumrungrad] for surgery and make significant savings." However, the trend is creating a backlash among physicians in the West, many of who voice serious concerns about the cleanliness of Thai hospital facilities and the level competency among Thai health care professionals.
Reuters
The Economist