The baht is likely to break the Bt35 barrier today due to massive selling of dollars by exporters concerned the currency will continue to surge against the greenback. The local unit reached a new nine-year high on Wednesday when it closed at Bt35.01 against the U.S. dollar. Yesterday's climb was attributed to the implementation of a central bank alternative for investors. From today, the Bank of Thailand will no longer apply the 30 percent withholding requirement on foreign inflows if they are hedged in foreign-exchange swaps.
The Nation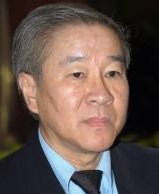 Chalongphob Sussangkarn, president of a private think tank who criticized currency controls on foreign investors, was named Thailand's new finance minister on Wednesday. Chalongphob, a former member of the World Bank, is described by local analysts as a pro-market economist. "The most important need right now is to bring back consumer and business confidence in the economy,'' Chalongphob said after the appointment. Chalongphob formerly criticized the central bank's controversial currency measures as "too harsh,'' saying some short-term funds were needed to develop capital markets and urged the Bank of Thailand to cut interest rates to curb baht gains.
Bloomberg
Thailand's economy expanded 4.2 percent in the fourth quarter of 2006, down from 4.7 percent in the previous period, marking the lowest growth rate since a 3.5 percent rise in the first quarter of 2005. For this year, experts say the recovery of investments will be slower than expected because of politics. "Growth is expected to slow down especially due to foreign investors shying away,'' said Vishnu Varathan, an economist at Forecast Singapore. "Consumer sentiment is also down because of political instability and violence.''
Bloomberg
More Articles ...