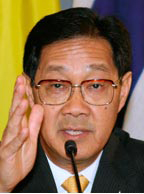 The Thai central bank will scrap remaining capital controls for foreign investments in bonds, mutual funds and property funds on Thursday following the resignation of the Finance Minister Pridiyathorn Devakula yesterday. A major issue now is who will succeed Devakula, who resigned on Wednesday after citing disagreements within the government over the appointment of an economic adviser. "Pridiyathorn built up a reputation as a shrewd economic observer during his time as head of the Bank of Thailand and gave the government some much needed economic clout," said Glenn Levine, an economist at Moody's Economy.com Web site. "With him now gone there is no telling what crazy ideas the interim government will come up with."
MarketWatch
Thailand sold 16.6 billion baht (US$461 million) worth of beach-front condominiums last year, of which 49 percent were sold in Pattaya, according to Nigel Cornick, chief executive officer for property developer Raimon Land. Cornick said Pattaya remains Thailand's top seller in the luxury condominium market because of its proximity to Bangkok and the Eastern Seaboard, Thailand's main industrial corridor, plus its attractiveness as an investment. There are some 315 housing and condominium projects, with 40,466 rooms, currently underway in the Pattaya vicinity. However, Cornick acknowledged that it was still too early to judge the impact of recent changes in Thai property law that are likely to take some of the wind out of Pattaya's booming real estate market.
dpa German Press Agency
In this interview with Time magazine, former Prime Minister Thaksin Shinawatra said he disagreed with the junta's recent controversial economic policies including capital controls and the proposed changes to the Foreign Business Act. "No one can adopt protectionism anymore," Thaksin said. "Thailand has to be ready for globalization—you cannot turn your back on it. Anything that reverses what is already very open will cause confusion and uncertainty. This is when investors pull out." Thaksin also said that the current regime wanted to take the country backward and away from its push to become a more knowledge-based society.
Time
More Articles ...