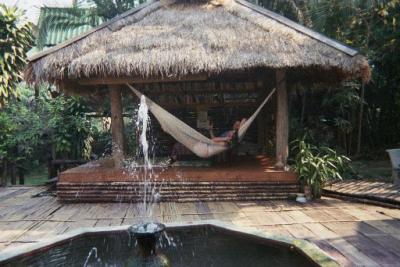 The northern Thai city of Pai has become an international hot spot in the middle of a natural paradise, according to Seth Liss of The Mercury News. Liss mentions local eatery Na's Kitchen, Pai City Massage, the city's four movie houses, the Karen, Lisu and Lahu hill tribes, and bamboo rafting through nearby caves. Liss also discusses elephant rides, treks through the subtropical mountain forest, river rafting on the Pai River and Thai cooking courses.
The Mercury News
Susan Spano of the Los Angeles Times writes that Chiang Mai has joined the likes of Santa Fe, New Mexico, and South Beach in Miami as an unlikely place that has become "a global center for cool contemporary architecture and design." Spano chronicles the Four Seasons Resort Chiang Mai, the new Mandarin Oriental Dhara Dhevi, the Chedi Hotel, River View Lodge, the Chiang Mai City Arts and Culture Center, and the Ketkaram Temple.
Los Angeles Times
Thai Airways International has decided to continue offering non-stop flights to the United States due to improved passenger loads. The national carrier had earlier considered ending the loss-ridden service. Management resolved to maintain the services as well as continue to use Airbus A340-500s, blamed for the high costs, on the Bangkok-Los Angeles and Bangkok-New York routes. The management was reportedly encouraged by the rising passenger numbers on the routes and the decline in losses. Thai Airways has also announced plans to increase the number of direct flights in the Bangkok-LA and Bangkok-New York routes to daily from five times a week, starting in May, in keeping with its goal of turning Thailand into a hub for passengers flying between Asia and the United States.
Bangkok Post