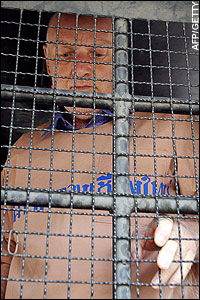 Swiss national Oliver Jufer has been sentenced to a 10-year prison term for spray painting on portraits of Thailand's king. Jufer, whose only defense was that he was drunk at the time of the crime, could have been sentenced to a maximum 75 years in jail. Although Jufer has the right to appeal, he has yet to say whether he would.
The Telegraph
Sonthi Limthongkul, the media firebrand who led the street protests against former Prime Minister Thaksin Shinawatra, was sentenced to two years in jail on Thursday. Sonthi was convicted of committing libel against Phumtham Vejjayachai, the deputy secretary of Thaksin's Thai Rak Thai party. During a speech at a Buddhist temple last year, Sondhi accused Phumtham of having disrespected Thailand's monarchy by joining a communist insurgency during the 1970s. Phumtham said Sonthi had gone too far in apersonal attack that breached Thai etiquette by dragging the monarchy into political disputes. He also said that many prominent figures who were students in the 1970s had joined the revolutionary struggle against the military dictatorship of the time. Sonthi said he plans to appeal the case.
Deutsche Presse-Agentur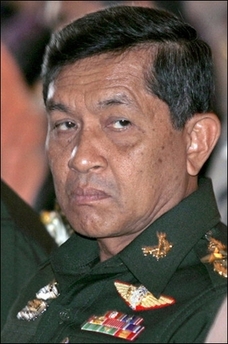 Coup orchestrator General Sonthi Boonyaratglin has asked Prime Minister Surayud Chulanont to impose a state of emergency in Bangkok to combat growing public opposition to the military-imposed government. The general's request preceds planned rallies by both pro-democracy groups and supporters of the ousted prime minister, Thaksin Shinawatra. Sonthi said he was concerned that the rallies could lead to insecurity, which he said could hurt foreign investment, tourism and city construction projects. The declaration of a state of emergency would give the authorities the power to ban public gatherings, impose curfews and censor local news reports, and would contain some of the elements of martial law. The Thaksin supporters are planning a demonstration Friday, while a coalition of pro-democracy groups plan to begin a weeklong protest at Sanam Luang next week.
IHT
More Articles ...