A Sydney man has been charged with importing half a kilogram of cocaine hidden in woven dresses from Thailand, according to the Australian Federal Police. Customs officers in Sydney seized a consignment of 11 African woven dresses, allegedly imported from Bangkok, with embroidered patches containing white powder wrapped in brown tape. They referred the consignment to the AFP, who tested the white powder, which proved to be cocaine. A little more than 500 grams of cocaine were removed from the consignment, with an estimated street value of A$200,000.
AAP
Hundreds of supporters of the former prime minister faced off against police in Bangkok during a rally demanding the resignation of the military-backed government installed after last year's coup. Some protesters threw rocks, plastic bottles and chairs at police as they marched Friday toward Sanam Luang, where nearly 1,000 people gathered. "The coup destroyed democracy in Thailand," shouted one of the protest leaders, Veera Musigapong, who was a former deputy leader of ousted Prime Minister Thaksin Shinawatra's Thai Rak Thai party. "I hope this is the last coup Thailand will ever see."
AP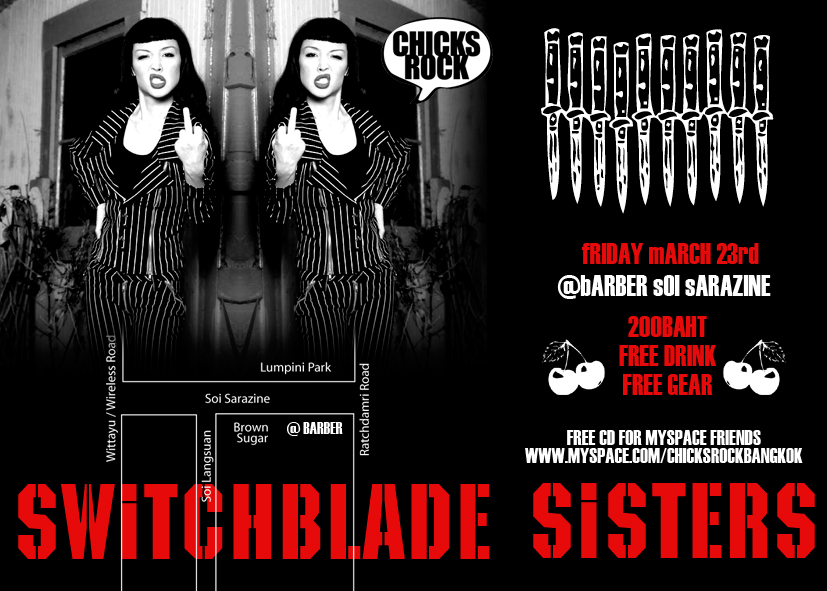 Langhub.com friends and Bangkok socialites Chicks Rock are holding their monthly party this evening. The theme tonight is Switchblade Sisters (don't worry, you won't be stabbed). The event will take place at Barber on soi Sarazine (around the corner from soi Langsuan). Be there or be square!