A gang of Thai teenagers - including the son of a local politician – are the chief suspects in the murder of an Israeli tourist who attended the full moon party on Koh Phangan last weekend. David Kakilashvili and his friends were drinking at the Drop In bar when a fight broke out with five teenagers from the island who stabbed and beat him to death before fleeing the scene. "We know who the culprits are and will ask the court to issue a warrants for their arrest," said Phangan Police Sub-Lieutenant Likhit Chumchuay. "The suspects include the son of a local politician, who has a bad reputation for bothering foreigners."
DPA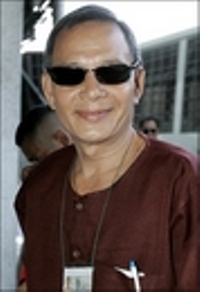 A Thai appeals court Tuesday overturned a decision to extradite Vietnamese dissident Ly Tong, who was on trial for violating Vietnam's airspace by hijacking a plane and dropping 50,000 anti-communist leaflets over Ho Chi Minh City. The court ruled Tong's act was a political offense, rather than a criminal one, and Thailand does not extradite people to face trial on political charges. "Vietnam wants to take the defendant back to prosecute him for a political offense," said Judge Wisarut Sirisingh. "What he did caused no harm to the territorial security of Vietnam." The 61-year-old Tong, a U.S. citizen who fled Vietnam after the war, said he planned to return to the United States to continue his political struggle by peaceful means.
AP
A survey by the Abac Poll Research Centre found that 62 percent of respondents continue to support Surayud Chulanont as prime minister. Just under 52 percent said Surayud was sincere about tackling the country's problems, followed by Council for National Security chairman General Sonthi Boonyaratglin, who scored 46 percent. Meanwhile, 56.4 percent of respondents favored no political party if an election was called today, while Thai Rak Thai was supported by 20.7 percent of voters and 18.5 percent said they would cast their ballots for the Democrats. When asked what they would do if they were foreign investors, 54 percent of respondents said they would withdraw their money from Thailand.
The Nation