A passenger car of the Bangkok-Sungai Kolok train line accidentally hit a ticket booth inside the Hua Lampong Railway station in Bangkok on Wednesday, according to police. The accident happened at 2:15 pm when the train was reversing on the tracks of Platform 4 just prior to passengers boarding. The last train car became loose and began traveling down the tracks out of control before hitting the ticket booth, causing panic among waiting passengers. Railway officials took about 30 minutes to salvage the car.
The Nation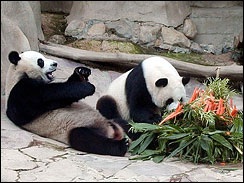 Authorities at the Chiang Mai Zoo are showing videos of pandas having sex in the hopes of encouraging resident panda Chuang Chuang to mate with his partner, Lin Hui. However, the zoo's chief veterinarian, Kanika Limtrakul, said that Chuang Chuang has yet to become hot and bothered. "Chuang Chuang seems indifferent to the videos; he has no reaction to what he's seeing on TV," Kanika said. "But, we're continuing to show him videos and hoping they will leave an impression." Chuang Chuang will be reunited with his partner in about a week. The two pandas have been kept apart from each other since late last year as part of an effort to spark some romance between them.
AP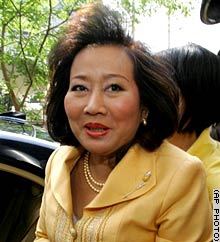 Pojaman Shinawatra, the wife of deposed Prime Minister Thaksin Shinawatra, was charged with evading millions of dollars in taxes, in a corruption case that could land Thailand's former first lady behind bars. If the Bangkok Criminal Court accepts the case, it would be the first prosecution of those close to Thaksin. Pojaman's brother, Bhanapot Damapong, and her secretary also face charges in the case, which centers on a 1997 transfer of shares in Shin Corp. An investigation by the Assets Examination Committee last month found that Thaksin's wife and her brother had to pay back taxes of about 546 million baht on the share transfer. Pojaman and her brother face a maximum penalty of 14 years in prison and a 400,000 baht fine each if convicted on two tax evasion counts.
AP
More Articles ...