Newsweek magazine reports that unlike the rest of Southeast Asia, fundamentalist violence in Thailand is becoming worse. Experts say that Thailand now faces the worst unrest since it annexed the Muslim region bordering Malaysia in 1902, and that the violence could spread north. The military junta has begun hinting that it might make an aggressive push to regain control over the south, which could raise the level of bloodshed. Ultrasecretive and horizontally integrated into autonomous cells, the insurgents are now thought to number 3,000, according to the article.
Newsweek
A team of four Thai students won first prize in the software writing competition at Microsoft's 2007 Imagine Cup competition in Seoul, South Korea. The four students from two universities in Bangkok wrote a program that enables computers to 'voice' typed and handwritten text for people who are illiterate. The team was comprised of Chatuporn Sukkasem, Pratchaya Paisanwipatpong and Patompol Sang-u-raiporn from Kasetsart University and Wasant Cheanmaneetaweesin from Chulalongkorn University. The team received a US$25,000 cash prize. The competition attracted 344 students from 112 teams representing 59 countries.
TNA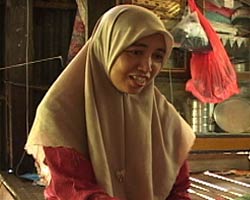 Journalist Aaron Goodman takes a look at the conflict in Southern Thailand in this video report from PBS. Goodman explains why the insurgency is taking place, and what is being done to stop the violence. He meets with Soraya Jamjuree, a lecturer at Prince Songkhla University in the southern province of Pattani, who offers support to the women and children in remote villages who have been caught up in the violence. Goodman was in Pattani on the day of the Chinese New Year attacks, in which 30 bombs exploded in the area, killing six people and wounding more than 60. Goodman said that many analysts believe the insurgency remains an internal conflict, although some claim that Muslim teachers trained in Pakistan and the Middle East have imported a radical form of Islam into Thailand.
PBS