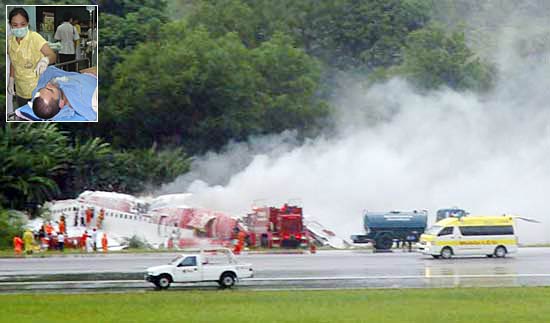 A passenger plane filled with foreign tourists crashed Sunday in Phuket, killing at least 74 people. The plane crashed as it was trying to land in pouring rain. The budget One-Two-Go Airlines domestic flight was carrying 123 passengers and seven crew members. Authorities said at least 74 had died and 42 people were hospitalized, while 14 passengers were missing. "The visibility was poor as the pilot attempted to land. He decided to make a go-around but the plane lost balance and crashed," said Chaisak Angsuwan, director general of the Air Transport Authority of Thailand. "It was torn into two parts." Twenty-four of the 32 passengers hospitalized there were foreigners and included Britons, Germans, Iranians, Israelis and at least one Australian, Irish and Canadian passenger.
AP
The Janusz Korzack School opened Tuesday in Bangkok's notorious Klong Toey slum. The school, named after a Polish-Jewish Holocaust hero, is located at Klong Toey's Mercy Centre, which also provides AIDS health care services and community support to the poorest people living in the slum. The school currently has 17 pupils, including an autistic boy who possesses a genius with maps and Latin-termed wildlife words, a blind child that was born and raised in a municipal garbage dump and a handful of other children that have fallen behind in public education. Korzack was a Holocaust-era orphanage director in Warsaw, Poland, remembered for accompanying his 200 children on their march to the Treblinka death camp.
DPA
Dissatisfied with the Thai government's failure to help them receive severance pay after the Inter Moda garment factory closed without advance notice, 10 laid-off women workers on Tuesday stripped naked in front of Government House while Prime Minister Surayud Chulanont was meeting with his cabinet inside. About 300 factory workers have been protesting at the Government House since Monday, demanding that the government intervene and help them get severance pay following the closure of their company on Aug. 26. They are asking the government to pay some 24 million baht in severance pay that the company failed to give to them. After the 10 women workers stripped, they quickly covered themselves with banners and began shouting protest slogans.
TNA
More Articles ...