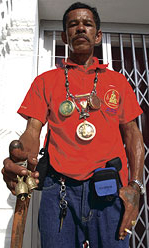 In this Wall Street Journal article, Jennifer Chen analyzes the recent craze in Thailand for Jatukam Ramathep amulets. Patrick Jory, a history professor from Australia who teaches at Walailak University in Nakhon Si Thammarat province, said that the Jatukam Ramathep medallion, which depicts a mythical figure that resembles a Hindu god with multiple arms and heads, has become so popular because of the country's weak economy and the political instability, particularly a Muslim insurgency in the area around Nakhon Si Thammarat, a Buddhist stronghold that so far hasn't seen conflict. Jory said that popular demand for Jatukam Ramathep amulets also might be a way of expressing solidarity with the beleaguered Buddhists in the southernmost provinces. When the Jatukam Ramathep amulet was issued in 1987, one cost about $1.30, and the price of one of the first editions is now valued at about $13,000. However, to Buddhist purists, the big emphasis the amulet puts on wealth is anathema. They argue it is unseemly for monks to participate in such an overtly commercial venture.
The Wall Street Journal
Thailand is considering a law to allow people who have had a sex change, or
kathoeys
as they are called in Thai, to officially change their title. The proposal is being considered by the country's National Legislative Assembly to support an anti-discrimination provision in the draft constitution. Wiroon Tangcharoen, an assembly member who is also rector of Srinakharinwirot University, said he supported the move, and said he did not believe the law would cause any problems in university dormitories, where students are segregated by sex.
AP
A recent study by Khon Kaen University has found that about 15 percent of all marriages in the northeast of Thailand are between Thai women and foreign men. The common sterotype of relationships of this sort are Thai women marrying European men, often 20 or 30 or even 40 years older than they are, because of the economic advantage, while the men do so to receive companionship, an easy life in a country very cheap by Western standards, and somebody to look after them as they age. Oftentimes, the men leave behind unhappy marriages in the West, while the women come from poverty-stricken backgrounds or failed marriages themselves. While many of the marriages are peaceful and happy, some locals say they have witnessed terrible endings. For example, houses and land, by law, have to be owned by Thais, and there have been cases where Thai wives simply expropriated the properties built for them by their foreign husbands whom they expelled, and then invited their Thai boyfriends to move in with them. Also, some women who are married to Thai men tell their foreign boyfriends that they are their brothers. So they sit together and eat together, and the foreigner even buys a motorbike for the Thai 'brother,' according to retired Austrian international lawyer Christoph Killy.

IHT
More Articles ...