Children of Norwegian fathers and Thai mothers in Thailand often end up as social outcasts, according to the Norwegian Seamans Church in Pattaya. Oftentimes, the Norwegian father is 30 or 40 years older than the mother, and the risk of him dying before the children have grown up is therefore high. As such, the mothers are often left without enough money to take care of the children and turn to prostitution to make ends meet, while the children are often stigmatized as unwanted, according to the church. Because the children are technically Norwegian citizens, they have the right to receive social support from Norway, although the church said that many of the Thai mothers are not aware of this.
ScandAsia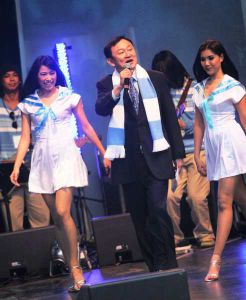 About 8,000 people gathered for a free concert and Thai-themed party in Manchester, UK, hosted by former Prime Minister Thaksin Shinawatra. The party on Saturday was meant to celebrate Thaksin's purchase of the Manchester City football club. Those in attendance were entertained by a Frank Sinatra tribute singer, as the local media have often commented that the name "Shinawatra" sounds similar to "Sinatra." Local reports said that several fans of the team who were so eager to get Thaksin's autograph that they were stripping off and throwing their shirts at his security guards for him to sign. The club's new owner was making his first major public appearance since being ousted from power in Thailand by a military coup last year.
Manchester Evening News
BBC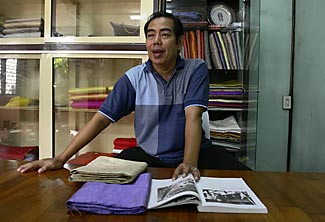 The Ban Khrua neighborhood in Bangkok, once famous for its many shophouses specializing in hand-made silk, has seen many such operations close in recent years due to urban expansion and pollution of the canal running through the area. Nipon Manuthas is the proprietor of one of the remaining silk weaving operations in Ban Khrua, and his products are in high demand among wealthy Europeans. Ban Khrua was founded by Cham Muslims from Vietnam and Cambodia who were given a plot of land east of Bangkok as a reward for fighting on the side of the Thai monarchy in the late 18th century.

The Christian Science Monitor