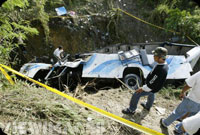 A bus packed with passengers heading to a funeral tumbled down a mountain in Kanchanaburi province on Saturday. Nine people and 26 others were injured. The accident occurred after the driver lost control of the bus. The driver then fled the scene, he said. About 40 passengers from Pathum Thani province near Bangkok were on their way to a funeral of a respected abbot in Sangklaburi.
AP
ABZ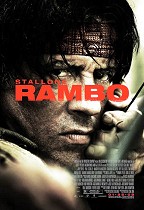 Movie fans in the United States are expected to flock to their neighborhood theaters to see the fourth installment of the Rambo series. In the movie, Rambo is living in exile in Thailand when he is recruited to take a group of American missionaries seeking to help a group of ethnic Burmese villages caught in the middle of a civil war. Rambo, played by Sylvester Stallone, later joins a team of mercenaries to return to the village after the people there are attacked and slaughtered by Burmese government forces.
VOA
To commemorate Thai king Bhumibol Adulyadej's 80th birthday this year, broadcaster TITV is planning to sponsor a nine-member team that will try to be the first Thai expedition to Mt. Everest. The group will attempt to scale the world's highest mountain and plant the national flag, a Buddhist flag and a flag with the royal emblem on the 8,848-meter summit. "No Thai has ever scaled Mt Everest," TITV said in a letter to Nepal's culture, tourism and civil aviation ministry. "We want to show the Thai people's faith and loyalty towards the king, country and Buddhism." Adding that a successful summit would also promote Nepal as a tourist destination, TITV asked the Nepalese government to waive or reduce the $90,000 royalty fee for climbing the peak.
The Economic Times
More Articles ...