A 40-year-old Thai man who was found dead from an apparent cobra attack was wearing a condom at the time. Wiroj Banlen was discovered along the side of the highway near Ayuthaya with cobra bites to his legs and backside. Investigators also found that Banlen was wearing a condom at the time, although no semen was found inside of the condom.
The Nation
A Canadian pedophile suspect has pleaded not guilty to four charges of molestation and distribution of pornographic pictures of two Thai boys. Christopher Neil was caught after police computer experts unravelled his digitally scrambled face from images found on the internet. If found guilty the 32-year-old former teacher could spend up to 20 years in jail. The pictures are thought to have been taken in Vietnam and Cambodia, and thus fall outside Thai jurisdiction. However, after he fled to Thailand from South Korea, where he had been teaching English, two Thai brothers came forward and accused him of paying for sex when they were nine and 14 years old.
IDP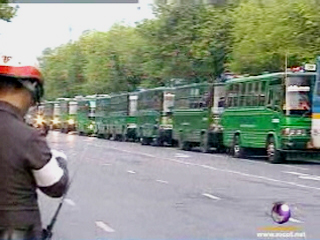 Private bus companies in Bangkok went on strike last week to ask for the government's help to ease the impact of soaring fuel prices following the Central Administrative Court's injunction against bus fare hikes. Bus drivers parked about 200 buses at and near the entrance of the Ministry of Transport on Bangkok's Ratchadamdeon Nok Avenue. Thousands of low-income commuters were without bus services on some routes and much-reduced service on others. Private Bus Operators' Association president Chatchai Chaiwiset urged passengers to understand the move, as the private bus companies could not operate their services any longer because of skyrocketing diesel fuel prices.
TNA
More Articles ...