Domestic carrier Nok Air has launched a twice-daily flight from Bangkok to Krabi province. Krabi Governor Siwa Sirisaowaluk welcomed the new route, saying the service would help to increase tourism in the region. Krabi was one of six provinces devastated by the 2004 tsunami.
Deutsche Presse-Agentur
Thailand has received the "World's Best Tourist Country 2007" title from Norwegian travel magazine Travel News. Thailand has won the award each of the last four years. The magazine also named Thai Airways as the best international airline. The awards were given based on input from more than 300 Norwegian travel agencies.
The Nation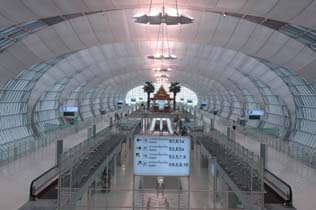 The Airports of Thailand's board has accepted a proposal to move all of the country's domestic flights back to Don Muang Airport. The domestic carriers submitted the proposal because of the high costs associated with operating at the newly opened Suvarnabhumi Airport. However, the International Air Transport Association warns that such a move would hurt Bangkok's potential for becoming an aviation hub. Transport Minister Admiral Thira Haocharoen said further talks would be held this month before the decision is finalized.
e-Travel Blackboard
The Nation
AP